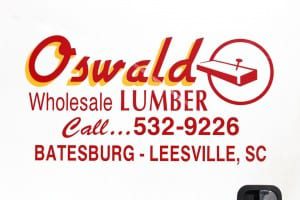 Thank you for visiting Oswald Wholesale Lumber! Contact us for more information about our retail lumber yard and our complete line of quality building materials, including electrical, hardware, paint, plumbing, and tools.
Mailing Address: PO Box 3129, Leesville, SC 29070-1129
Physical Address: 6707 Augusta Hwy., Leesville, SC 29070-7604
Telephone: 803-532-9226
Toll Free: 800-489-1403
Fax: 803-532-6983
Thank you for contacting us. Please enter your information in the following fields to send us an email. We look forward to talking with you.